Daily Forecast | The latest from First Alert Meteorologist Tim Strong
Low flood risk for heavy rain late today through Friday. Temperatures staying cooler than average until this weekend.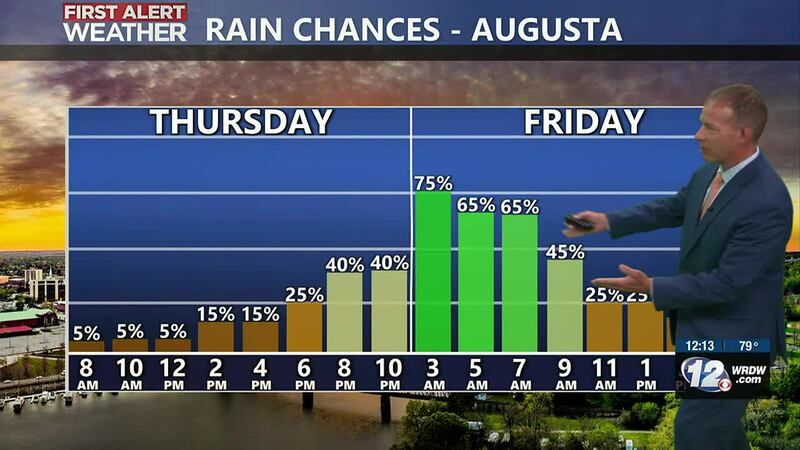 Published: Aug. 3, 2023 at 6:39 AM EDT
AUGUSTA, Ga. (WRDW/WAGT) - Moisture will increase across the region today through the weekend allowing higher storm chances to move back into the forecast. Scattered showers and storms are possible today - mainly in the late afternoon into tonight. Highs will remain below average in the mid to upper 80s. Winds will be out of the south between 5-10 mph.
Scattered to numerous storms will stay in place across the area Friday - in the morning and afternoon. There will be a low flood risk across the CSRA. Highs will stay cooler than average in the mid-80s thanks to cloudy skies and higher rain chances. Severe storms look possible depending on timing of the storm complex - stay updated on the forecast. Winds will be out of the southwest between 8-12 mph.
Feeling more seasonal this weekend with highs back in the low 90s and feel like temperatures getting close to 100°. A few storms will be possible each afternoon this weekend. Keep it here for updates through the week.
Copyright 2023 WRDW/WAGT. All rights reserved.