100+ firefighters battle large fire at Arizona propane business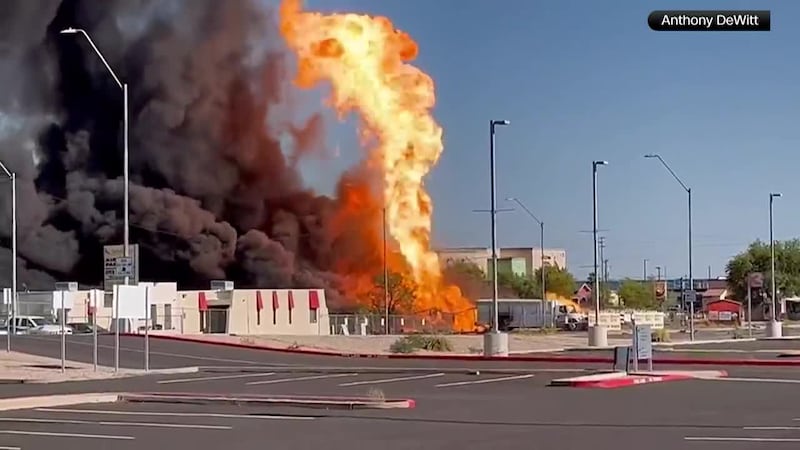 Published: Jul. 20, 2023 at 9:47 PM EDT
|
Updated: Jul. 21, 2023 at 12:38 AM EDT
PHOENIX (KTVK/KPHO/Gray News) — Hundreds of propane tanks were scattered around a neighborhood near Phoenix Sky Harbor Airport as firefighters worked to put out a massive fire at a nearby propane business on Thursday afternoon.
The fire broke out at Bill's Propane Service on 40th Street and Washington Street.
Phoenix Fire Capt. Rob McDade said propane tanks were being shot 500 yards into the air.
"They literally become missiles," he said. "Very dangerous situation."
Phoenix Fire confirms so far, no one is hurt. More than 150 firefighters assisted at the scene.
Firefighters cleared a mile radius around the business.
The Arizona Animal Welfare League has its main shelter nearby, but firefighters say it didn't catch fire. Crews prevented any flames from spreading to any business.
An Arizona Department of Transportation camera shows flames shooting out of the business and thick black smoke can be seen for miles.
It's unclear what started the fire.
Phoenix Sky Harbor Airport said the fire isn't impacting flights.
McDade said this type of fire is harder to fight compared to a typical building on fire. They have to surround it, cool the area down and then turn off the gas.
Copyright 2023 KTVK/KPHO via Gray Media Group, Inc. All rights reserved.