Weather Blog: Haze and Air Quality Alerts
Canadian wildfires have dropped air quality across the Southeast the past few days - leading to hazy conditions and alerts.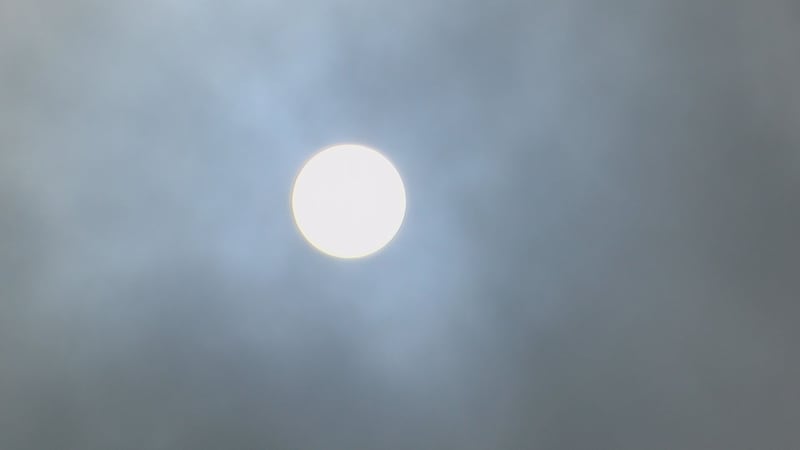 Published: Jul. 18, 2023 at 6:36 PM EDT
|
Updated: Jul. 18, 2023 at 6:45 PM EDT
AUGUSTA, Ga. (WRDW/WAGT) - As firefighters battle wildfires in Canada - here in the CSRA we are experiencing some of the dangerous impacts those fires bring.
Smoke from northwestern Canada has pushed its way down into the United States triggering air quality alerts across the Southeast. Winds aloft are out of the northwest and carried smoke south and east for thousands of miles.
Air Quality Alerts have been issued for much of the Southeast including portions of our viewing area. Air Quality Alerts are issued based on different levels that measure the amount of particles in the air.
| Air Quality Level | Impacts |
| --- | --- |
| Good | No Health Risks |
| Moderate | Very sensitive people may wish to limit outdoor exertion |
| Unhealthy (for Sensitive Groups) | Sensitive people should limit outdoor exertion |
| Unhealthy | Everyone should limit exertion outdoors |
| Very Unhealthy | Sensitive people should avoid all outdoor activity |
| Hazardous | Everyone should avoid outdoor activity |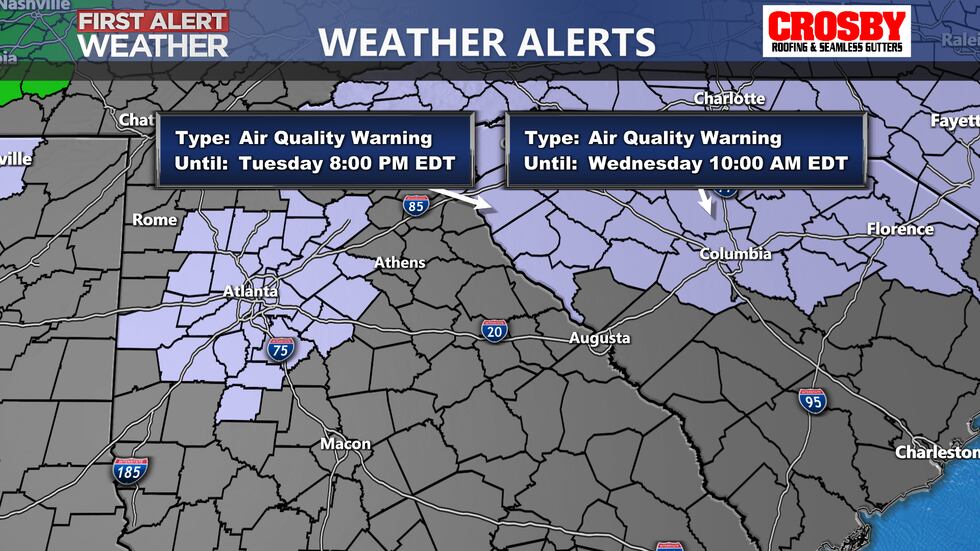 While most of the CSRA is under a "Moderate" level of air quality, places like Atlanta and Charlotte have "Unhealthy" levels of air quality. The levels we are seeing are especially harmful to people with asthma, COPD, or other respiratory diseases.
The National Weather Service offers a few safety tips when it comes to wildfire smoke:
Stay Informed. Listen to NOAA Weather Radio or your favorite weather news station

Stay inside if possible, particularly if you have respiratory concerns or other health problems, are a senior or child

If you must go out, try to limit the amount of time you are out to strictly essential activities

Minimize your use of items that increase pollution, such as cars, gas-powered lawnmowers, and other vehicles

Do not burn debris or other items during an air quality alert
We can expect hazy conditions to continue off and on until the wildfires are under control. In the short term, conditions are expected to improve over the next few days.
While the smoke and haze have made for poor conditions outdoors it is bringing us a little relief from the heat. High temperatures have stayed in the lower to middle 90s Tuesday afternoon rather than the anticipated upper 90s.
This is due to the particles that pollute the air acting as a thin layer of cloud cover and blocking out some of the sun's rays.
The top five air-polluting particles according to Air Now are:
ground-level ozone

particle pollution

carbon monoxide

sulfur dioxide

nitrogen dioxide
Copyright 2023 WRDW/WAGT. All rights reserved.