GRAPHIC: Toddler injured in attack by 3 dogs while playing outside
'These dogs have my baby in their mouth'
Published: Jul. 4, 2023 at 9:55 AM EDT
CHARLESTON, S.C. (WCSC/Gray News) - A toddler is recovering in the hospital after being mauled by several dogs in South Carolina on Sunday.
The 18-month-old child is being treated at the Medical University of South Carolina for several severe lacerations to his face, neck and leg.
GRAPHIC WARNING: This story contains details and visual elements that may be disturbing for some viewers.
Lynn Boyd, the toddler's mother, said the day felt like a typical Sunday afternoon.
She said she took her kids over to a friend's house to hang out. The moms were all watching the neighborhood children play together outside when she said she went inside to use the restroom for five minutes.
"I got done, I went to go grab my phone, and my 6-year-old is at the door saying, 'Mom, they've got him,'" Boyd said. "When I get up to the gate, these dogs have my baby in their mouth."
She said she sprinted in the direction her 6-year-old daughter was pointing, where she found her toddler in the jaws of three dogs.
"A lot of it's fuzzy. But I remember him screaming and crying. I don't know how I got the dogs off. I just remember grabbing him and cupping the wound on his leg and using my face to put pressure on his," Boyd said.
She said she then picked him up and started running, screaming for help with the three dogs at her heels.
"I just kept screaming '911, somebody call 911,'" Boyd said. "I raced inside, and I remember just trying to get all the blood off him, all the blood and the dirt and all the saliva."
As she scrambled to clean the 18-month-old up and apply pressure on his wounds, her 6-year-old asked her a question.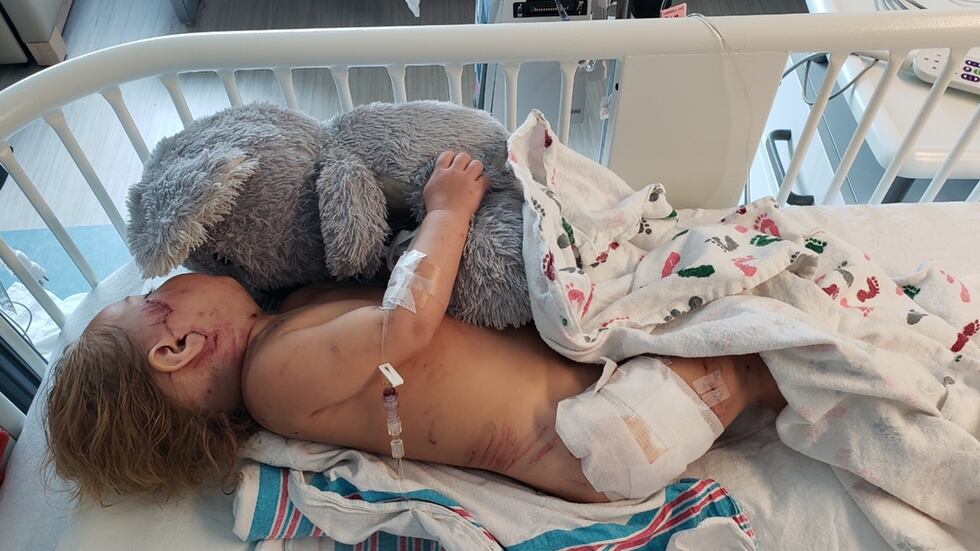 "My 6-year-old is like, 'Mommy, is he going to die?' and I'm like, 'Baby you got to breathe, the calmer you are, the better it's going to be for him' and she says, 'OK, he's not going to die' and I say, 'No baby, he's not going to die. Go get me towels,'" Boyd said.
Colleton County Fire and Rescue officials said they treated the boy on scene and then transported him to the Shawn Jenkins Children's Trauma Center at the Medical University of South Carolina.
That's where Boyd sat Monday night, one day after the attack, tending to her baby, wanting answers and accountability.
"This is something my child is going to live with for the rest of his life. And if nothing is going to be done about these animals, what happens to the next kid in the neighborhood?" Boyd said.
She said she was told there is nothing more law enforcement could do because it was her children who opened the gate to the dogs.
Boyd said she was friendly with the dogs' owners before the attack but was not warned the dogs were aggressive and had no idea of what they were capable of.
"She seemed really nice. And I've met her son, and her kid has played with my kid, and so I thought nothing of it," Boyd said. "So, if all the children are playing in the neighborhood at the same time, and all the moms are watching, for a split second, just to use the bathroom, chaos ensues."
Copyright 2023 WCSC via Gray Media Group, Inc. All rights reserved.