Truck driver was using TikTok when he caused crash that killed 5, officials say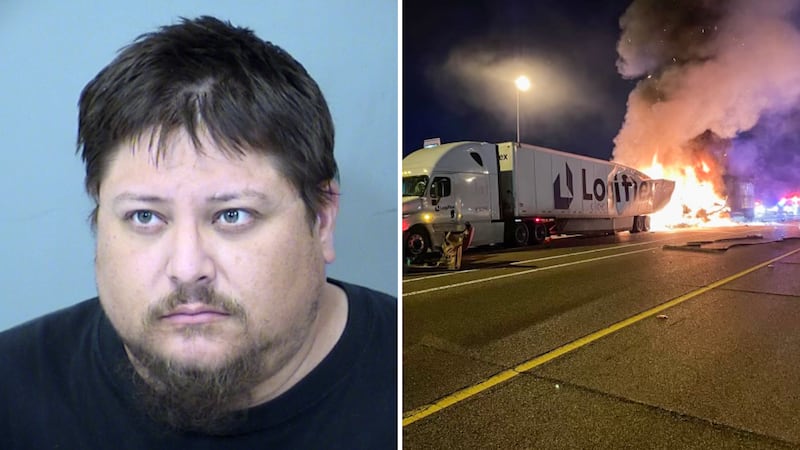 Published: Jun. 30, 2023 at 4:47 AM EDT
CHANDLER, Ariz. (3TV/CBS 5/Gray News) — A semi truck driver was allegedly using TikTok when he caused a fiery crash on Interstate 10 near Chandler, Arizona, earlier this year.
Five people were killed and the truck driver is now facing charges, according to the Arizona Department of Public Safety.
Investigators said 36-year-old Danny G. Tiner was arrested Thursday.
According to Arizona Department of Public Safety, Tiner was driving 68 miles per hour in a 55 mph construction zone along I-10 on January 12 at around 6:15 a.m.
He was reportedly using TikTok on his cell phone when he plowed into two cars, pushing them into another semi truck and two other vehicles just past the Chandler Boulevard exit.
The two cars that were crushed between the semi trucks burst into flames, resulting in the deaths of five people, officials said.
The freeway was shut down for about 11 hours that day.
Tiner originally said he received a message on his work tablet and "acknowledged the message," investigators said. When he looked back up, he said he saw traffic was stopped and he couldn't brake in time.
The FBI assisted Arizona Department of Public Safety investigators with examining Tiner's phone and discovered what he was really doing on his device.
Tiner was booked into jail on five counts of manslaughter, four counts of endangerment and one count of tampering with physical evidence.
Copyright 2023 KTVK/KPHO via Gray Media Group, Inc. All rights reserved.