Daily Forecast | The latest from First Alert Meteorologist Tim Strong
Heating up for Fourth of July Weekend. Late day storms possible each day.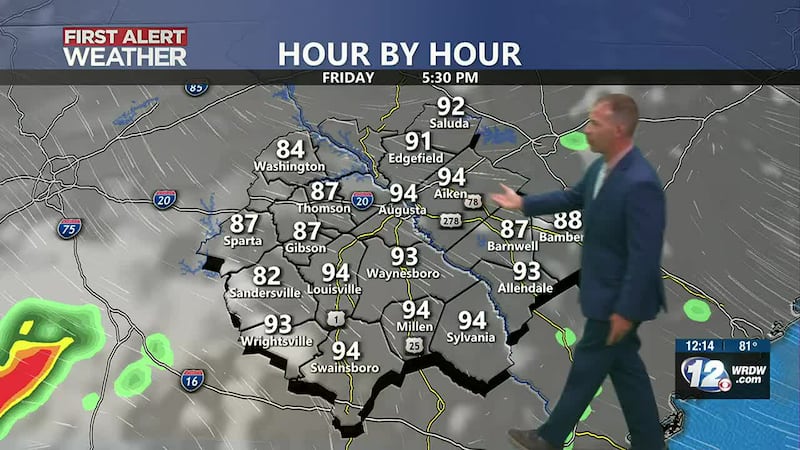 Published: Jun. 30, 2023 at 6:34 AM EDT
AUGUSTA, Ga. (WRDW/WAGT) - Thursday's high temperature of 93 and low of 65 marks the 43rd consecutive day of cooler than average temperatures in Augusta, but that streak will likely end Friday, as the warmest weather of the year to date builds into the area. Humidity will be on the rise as well with heat index/feels like temperatures in the 100 to 105 degree range today through the middle of next week. With plenty of heat and humidity, late day thunderstorms are a possibility each day. Some heavy downpours and gusty winds will be possible with any developing storm.
Other than the heat, today looks great for your outdoor plans with a mix of clouds and sun, highs in the middle 90s, and a heat index near 102. Winds will be from the southwest at 5 to 10 mph.
Showers and thunderstorms become possible later today as a weakening complex of storms to our northwest attempts to move through the area. The storms may fall apart altogether, but you will want to keep that possibility in the back of your mind if you have outdoor plans tonight. The chance of rain is 30 percent with overnight lows in the lower 70s and calm winds.
Abundant sunshine will start the day Saturday, but look out for increasing clouds and a few isolated thunderstorms later in the afternoon and evening. Highs will be in the middle 90s with feels like/heat index temperatures near 103. Northeast winds 3 to 8 mph.
Sunday looks to be the hottest day of the holiday weekend with highs climbing into the upper 90s with heat index values near 105. A few isolated thunderstorms are possible during the hot afternoon and evening hours.
Warmer than average temperatures in the middle 90s will continue through at least midweek with a 30-40 percent chance of storms each afternoon and evening.
Copyright 2023 WRDW/WAGT. All rights reserved.