Police: Woman's 911 text leads to shooting of kidnapping suspect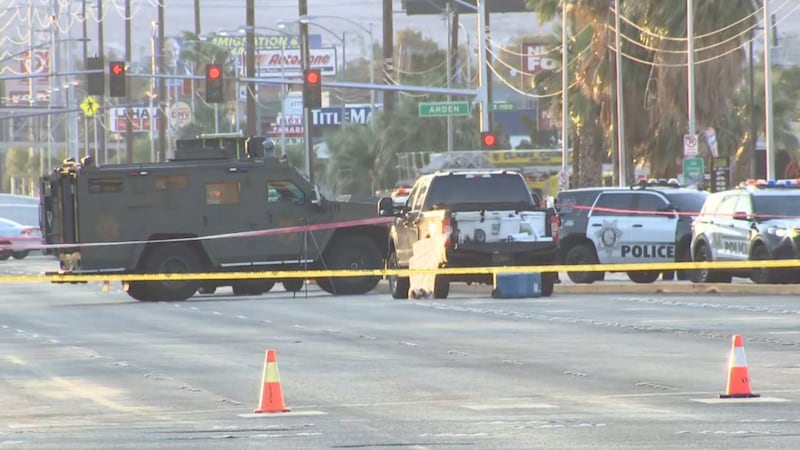 Published: Jun. 25, 2023 at 5:56 AM EDT
LAS VEGAS (KVVU/Gray News) - Police in Las Vegas are investigating the officer-involved shooting of an armed kidnapping suspect. The incident happened after a woman texted 911 saying she had been kidnapped by a man.
The Las Vegas Metropolitan Police Department says dispatch received a request about 12:43 a.m. Friday from the Boulder City Police Department for assistance with a vehicle pursuit regarding a kidnapping.
Boulder City Police later said their investigation began after they received a 911 text message about 12:21 a.m. from a woman stating that she had just been kidnapped by a man, KVVU reports.
Las Vegas police officers took over the pursuit at about 2 a.m., and the suspect vehicle was then "forcibly stopped" near the intersection of Lamb and Charleston Boulevards, according to the department.
The kidnapping suspect allegedly pointed a firearm toward a person inside the car during the incident. Police say this led to an officer discharging his firearm and striking the suspect. He was taken to the hospital in critical condition.
Las Vegas Police Capt. Joshua Martinez said during a briefing there were three additional people in the suspect's car. Two kidnapping victims were taken to local hospitals, according to the department. Their conditions were not immediately provided.
Boulder City Police initially located the victim and the male suspect in the vehicle in the area of U.S. Route 95 and Black Hills. A pursuit began after the vehicle fled from officers, police say.
The incident marks LVMPD's third officer-involved shooting of 2023, the agency said. Per the department's policy, the identity of the officer involved will be released after 48 hours.
The incident remains under investigation.
Anyone with information is asked to contact the LVMPD Force Investigation Team at 702-828-8452. To remain anonymous, contact Crime Stoppers by phone at 702-385-5555 or online at crimestoppersofnv.com.
Copyright 2023 KVVU via Gray Media Group, Inc. All rights reserved.