Divers recover body of Virginia man after semi truck crashes off bridge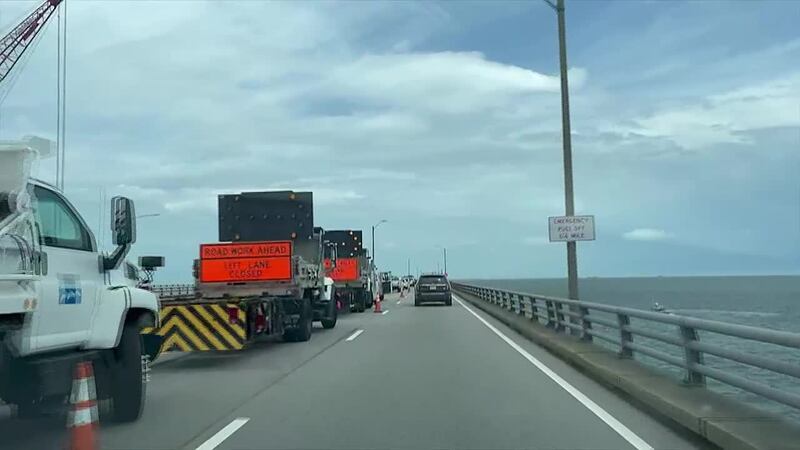 Published: Jun. 24, 2023 at 3:39 AM EDT
CAPE CHARLES BAY, Va. (WWBT/Gray News) - Chesapeake Bay Bridge-Tunnel officials confirmed Friday they recovered the body of a driver whose tractor-trailer truck went over the side of the bridge.
On Thursday afternoon, a tractor-trailer owned by Keep It Moving 22, LLC went overboard on the left side of the northbound bridge between Virginia Beach and the southernmost island at the No. 1 milepost on the Chesapeake Bay Bridge-Tunnel.
A spokesperson with the Chesapeake Bay Bridge-Tunnel identified the truck's driver as 36-year-old Christopher Scott, of Henrico County, Virginia.
A salvage crew successfully recovered Scott's body and the truck on Friday afternoon.
"The thoughts and prayers of everyone at the CBBT are with the family and loved ones of Mr. Scott during this difficult time," Jeff Holland, executive director of the Chesapeake Bay Bridge-Tunnel, said.
Scott's mother spoke with NBC12 off camera. She said her son had a big heart and would try to help everyone.
He had three children, which includes one who was born Friday.
Scott's loved ones said his girlfriend went into labor just hours after the crash. His mother said her heart aches knowing her son will never get to hold his newborn baby.
Chesapeake Bay Bridge-Tunnel police are conducting an investigation. The cause of the crash remains undetermined at this time.
Copyright 2023 WWBT via Gray Media Group, Inc. All rights reserved.