Metro woman hospitalized after butt injections from unlicensed professional
What an Atlanta News First investigation uncovered has led to a state medical board investigation.
Published: Apr. 24, 2023 at 10:29 AM EDT
|
Updated: May. 2, 2023 at 10:33 AM EDT
ATLANTA, Ga. (Atlanta News First) - The injuries are too graphic to show. But the images offer a blurry look at the price of pretty.
In October 2022, Chantia Cooley sought injections for the perfect bum. The 49-year-old did not want it bigger, just smoother, to "help me with the cellulite," she said.
But after the procedure, Cooley was not only still left with the cellulite, but was then hospitalized for days after an emergency room visit to Piedmont Henry Hospital, where doctors found sepsis in her blood.
According to the Atlanta-based Centers for Disease Control and Prevention, sepsis can lead to organ failure and death. The agency reports at least 1.7 million Americans develop it and at least 350,000 die from it.
Doctors determined it was butt injections gone wrong, Cooley told Atlanta News First Investigates.
Text messages, payment plan contract documents, and electronic receipts reviewed by Atlanta News First Investigates confirm Cooley's procedure was performed by Voncille Daniel at Kaotic Von Beauty Bar.
The College Park business advertises medical procedures from "bum fillers" to "lipo." But according to state records, neither the business nor its owner has a medical license. Medical licenses can be found on Georgia Medical Composite Board's online searchable database.
In Georgia, performing unlicensed medical work is a felony. According to state code OCGA 43-34-42, "Any person who practices medicine without complying with this article or who otherwise violates any provision of this article shall be guilty of a felony and, upon conviction thereof, shall be punished by a fine of $1,000.00 per each violation or by imprisonment from two to five years, or both."
Board-licensed plastic surgeon Dr. Nirav Patel said to even get FDA approved injectables, you must have credentials to sign off. That means unlicensed workers often rely on "black market" or altered products.
Cooley believed she was getting hyaluronic acid filler (HA) in her bum. After analyzing her injuries through pictures, Dr. Patel argues it's unlikely only HA was injected.
"Clearly something is draining out," he said. "It's a combination of blood, possibly pus, possibly infected fluid. That's not normal at all. This very much looks like the typical inflammation that one mounts when you have fake stuff injected."
Data from the National Institute of Health illustrates a 25-percent death rate and 50-percent hospitalization rate for elective cosmetic procedure injuries by unlicensed providers. But the number is likely significantly underreported, the agency said.
The aesthetic industry saw a 40-percent surge during the pandemic, which is what doctors call the "zoom boom." The more people looked at themselves on screen, the more they wanted elective enhancements. But those surgeries are not without risk. As consumers look for good deals, regulatory agencies said clients are increasingly falling victim to dangerous results.
"You end up getting what you pay for when you try to cut costs upfront at the compromise of safety or having a truly qualified individual treat you," said Dr. Patel.
After Atlanta News First Investigates started asking questions, the Georgia Medical Composite Board opened an investigation. As a regulatory agency, it typically suspends or revokes licenses, but enforcement gets complicated when a facility does not have a medical license in the first place, like the case of Kaotic Von Beauty Bar.
Allegations against the business are two-fold: the owner offers the medical procedures locally while also offering sessions across the county to "train" others on performing the procedures, according to booking dates on the business's website.
"That's kind of scary. I know she's gone on tours to other states." Cooley questioned, "you got to think about are these women okay?"
Through email, Atlanta News First reached out to Kaotic Von Beauty about the allegations and requested an interview. Daniel only replied "Can you provide the names of the consumers?"
After additional requests for an interview, Daniel did not respond. So, Atlanta News First Investigates went to the business location. It appeared empty inside.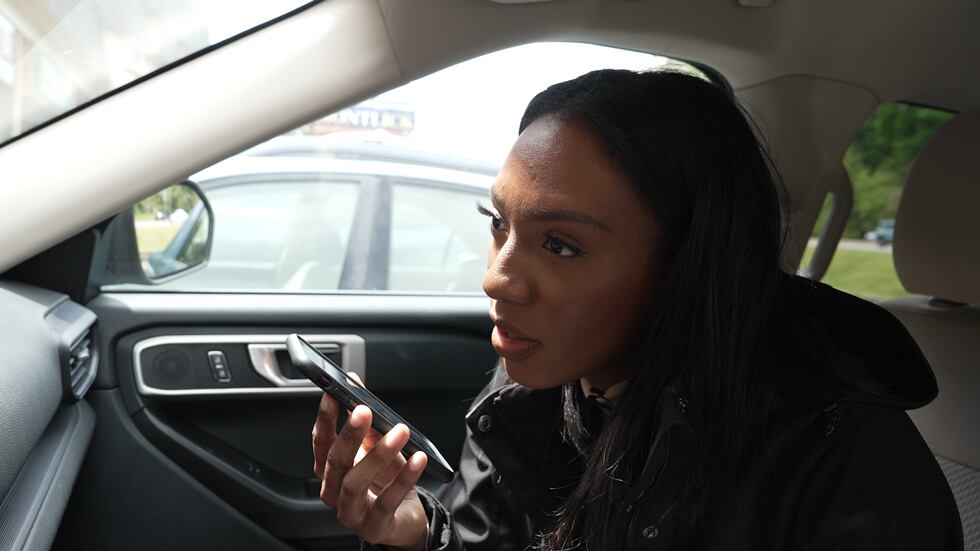 Then Atlanta News First Investigates called the number listed on the building's door.
The phone call
Voncille: [Inaudible] Beauty Von?
Atlanta News First Investigates: Hi there, this is Ciara Cummings with Atlanta News First. I'm trying to get in contact with Ms. Voncille Daniel.
Daniel: In regards to what?
Atlanta News First Investigates: We want to talk to Ms. Voncille because there's no record that she has a medical license yet she's offering medical services--
Daniel: What service is that--
Atlanta News First Investigates: Is this Ms. Voncille?
Daniel: Yes. Which service are you speaking of?
Atlanta News First Investigates: Butt injections.
Daniel: Okay so we do have nurses on—on—on staff. And we also—I have a phlebotomist license and I also am an esthetician. What is the issue now?
Atlanta News First Investigates: Where are you licensed at? Where are these licenses coming from, in the state of Georgia? What states?
Daniel: Um. We're currently, I'm currently Florida licensed but we're getting everything transferred now. We had a board come out and she wants me to do everything. So we're currently getting everything together now.
Atlanta News First Investigates: You have a medical license in Florida? That's what you're saying because an esthetician license — even in Florida if that was somehow transferred to Georgia, you still wouldn't be able to perform these medical procedures. So you're saying you also have a medical license in Florida that you're working to transfer to Georgia?
Daniel: Okay ma'am what is this in regards to? That's what I'm asking because do you need to speak to my lawyers or anything, what's going on ma'am?
Atlanta News First Investigates: We want to speak --
Daniel: [inaudible] --
Atlanta News First Investigates: We want to speak to you. It's everything I said in email that there are clients that have claimed you yourself --
Daniel: ma'am, which client — and my lawyer, my lawyer told me to ask you which clients because all of our clients have NDA forms and they also waive their rights and all that good stuff there. So which client are you speaking on?
Atlanta News First Investigates: I'm confused. You say your clients have NDAs and they waive all their rights to get procedures from you?
Daniel: Ma'am. Which clients are you speaking on?
Atlanta News First Investigates: I'm happy to share at least one name. She said she's fine going public and her name is Chantia Cooley and she got injections from--
Daniel: We knew it was her --
Atlanta News First Investigates: We got injections --
Daniel: We knew it was her --
Atlanta News First Investigates: We know --
Daniel: [Inaudble]
Atlanta News First Investigates: We know that she was in the hospital --
Daniel: We knew. Listen, we already knew it was her. That's why — we already knew.
Atlanta News First Investigates: Ma'am. Do you have a medical license or not?
Daniel: Ma'am--
Atlanta News First Investigates: You—she told that you were the one responsible
Daniel: *Hangs up, call beeps*
Atlanta News First Investigates called once more and left a voicemail, asking again about licenses; informing her of the upcoming story on the allegations; and letting her know she is welcome to provide a formal statement.
Atlanta News First Investigates found no documentation to substantiate Daniel's claims about her licenses or nursing staff on-site.
As for Cooley, she cautions others to do what she did not.
"Be careful, do your research a little like I maybe should have," she said, adding, "I'll just keep my cellulite and I'll keep my butt."
Both the Georgia Medical Composite Board and the Georgia Cosmetology Board are investigating Kaotic Von Beauty Bar. Cooley also has filed a report with College Park Police Department.
If there's something you would like Atlanta News First Investigates to dig into, fill out this submission form.
Copyright 2023 WANF. All rights reserved.