Jimmy Carter receives accolades from afar, and right at home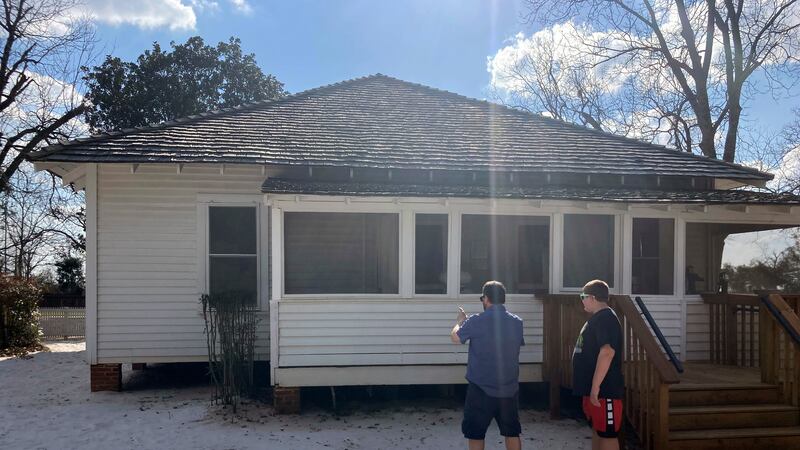 Published: Feb. 22, 2023 at 7:42 PM EST
PLAINS, Ga. (AP) — Chad Loshbaugh and his seventh-grade son, Theo, were starting a historical tour for their winter break when they heard that former President Jimmy Carter had begun end-of-life care at home.
So the father-son pair from Albany, New York, changed their itinerary and found themselves Wednesday on the Carter family farm in Plains, where the 39th president grew up and about a mile from the one-story house where the 98-year-old now is receiving hospice care.
"This was an add-on," to a civil rights trip that is taking them from Atlanta through several stops in Alabama, Loshbaugh said. "We thought it was important to change our trip to see the site here and pay our respects to President Carter."
The longest-lived American president is garnering accolades and well-wishes from across the world — from other public leaders and admirers he's never met — as well as from family and friends in his hometown, where he and his wife are known as "Mr. Jimmy" and "Ms. Rosalynn."
"It's just surreal to think about it all," said Carter's niece Kim Fuller, who runs Friends of Jimmy Carter, headquartered down the street from the former first couple's home.
News of Carter's condition prompted an uptick in visitors to Plains, a town of about 700 with just a few blocks of retail businesses along the railroad tracks that run by Carter's 1976 presidential headquarters.
Plains residents have always been proud of the Carters' ascension to the White House, Fuller said, as well as the couple's work afterward on public health, conflict resolution and democracy via The Carter Center in Atlanta. There, the Carters and their programs have monitored elections in at least 113 countries and, among other things, nearly eradicated the Guinea worm parasite in the developing world.
Those accomplishments have drawn plaudits from people such as Mark Suzman, CEO of the Gates Foundation.
"President Carter's dedication to making the world a better place has had a lasting impact on countless lives through the @CarterCenter," Suzman tweeted Wednesday. "Thank you Pres. Carter for your decades of leadership, service, & wisdom — the future is brighter because of your work."
Former President Bill Clinton, a fellow Democrat elected 12 years after Carter's single term ended with a landslide defeat in 1980, marked Presidents Day on Monday by wishing Carter well and tweeting out a picture of the pair, who were both Southern governors before their presidencies.
Thousands also have posted personal messages on The Carter Center's website.
"Dear President Carter, You are the best of us. You always sought the best for our country, and for the world," wrote Mary Cullen.
Back in Plains, Fuller said it's "hard right now" to think about Carter eventually not being around. "But it's good to see people coming through," she added.
Fuller, who took over teaching her uncle's Sunday School lessons at Maranatha Baptist Church after he grew frail, said it was a regular occurrence over the years to see the former first couple walking down the street.
"They've been so accessible," she said. "That's just who they are, and he was like that in the White House. Never forgot where he came from — and he came back home when he was done."
Carter's Presidential Library and Museum, located on the same campus as The Carter Center near downtown Atlanta, also has seen an increase in interest this week.
Jennifer Multani, who visited from California, said she gained a new appreciation for his life, including his time in office and experiences before entering politics.
"His service after the presidency was extraordinary, no question about it," she said. "We all need to learn from it to give back to humanity as much as we can."
She said he "inherited turbulent times" but still negotiated a peace deal between Israel and Egypt. The leaders of those nations shared the Nobel Peace Prize. Carter received the award in 2002.
Sheri Clayton, a 65-year-old visiting from Houston, remembers Carter's presidency well, with the late 1970s being dominated by inflation, rising interest rates and the Iran hostage situation. Carter made some decisions, including appointing Paul Volcker as Federal Reserve chairman, that would help the economy rebound — but not until after his defeat to Republican Ronald Reagan. He also eventually freed the 52 Americans being held in Tehran, after the November election.
"The feeling that I get about Jimmy Carter was that he had a good heart and ... he is for the people," Clayton said.
Walking along the paths outside Carter's boyhood home, Loshbaugh said what is perhaps most striking to him is that the same man who accomplished so much got his start, both in life and in politics, where he did.
"To come from such humble, rural beginnings," Loshbaugh said, "it's compelling to think about.
"His tenure was just one term. But what he did with his life after — it's just tremendous in building not only his legacy, but showing what a president do for the country and how they should use their position for their entire lives."
___
Associated Press journalist Sharon Johnson contributed from Atlanta.
Copyright 2023 The Associated Press. All rights reserved.