State leaders issue statements on former President Carter getting hospice care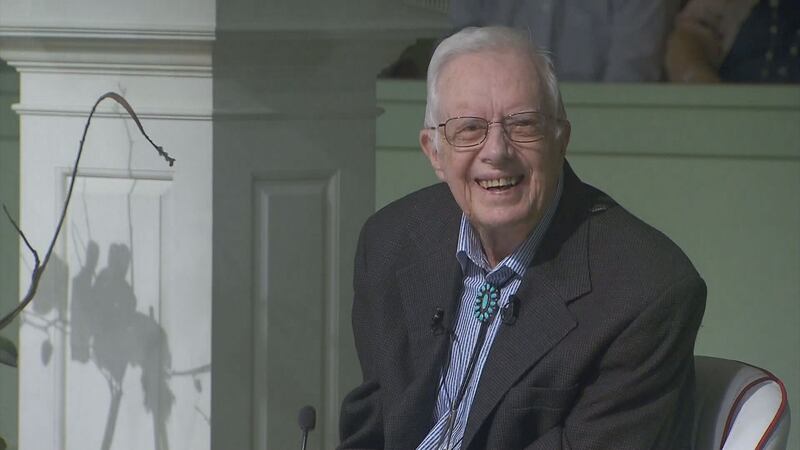 Published: Feb. 18, 2023 at 7:56 PM EST
|
Updated: Feb. 20, 2023 at 5:22 PM EST
ALBANY, Ga. (WALB) - State leaders across Georgia are issuing statements following former President Jimmy Carter entering hospice care.
Carter, 98 and the longest-living president, "decided to spend his remaining time at home with his family and receive hospice care instead of additional medical intervention," according to a statement from the Carter Center.
U.S. Senator Raphael Warnock said Carter is "a man of great faith, (and) has walked with God."
"In this tender time of transitioning, God is surely walking with him," Warnock said. "May he, Rosalynn and the entire Carter family be comforted with that peace and surrounded by our love and prayers."
Secretary of State Brad Raffensperger said his prayers are with the Carter family.
"May they find peace in all that President Carter has contributed throughout his decades of service to Georgia, our nation, and our world," Raffensperger said.
Georgia Lieutenant Governor Burt Jones said that he and his wife are keeping the Carter family in their prayers.
"President Carter exemplifies the very best of Georgia," Jones said.
The Georgia House Democrats said they are sending Carter all of their love.
"We cannot thank you enough for what you've done for us all," they said.
Georgia State Senator Freddie Powell-Sims of Dawson highlighted Carter's Civil Rights and humanitarian accomplishments in the following statement:
"I am deeply saddened by the news of President Carter. He is a role model, a leader and a trailblazer. He had a call for public service, which first began on the Plains, GA school board in 1961, followed by the GA State Senate from 1963 to 1967 and then as the 76th Governor of Georgia from 1971 to 1975. During his time in the State Senate, he was openly pro-integration and worked to change laws to make it easier for African Americans to vote. As Governor, he continued to promote civil rights by increasing opportunities for African Americans to work in state agencies and adding portraits of civil rights leaders such as Martin Luther King Jr. to the state capitol. During his presidency, he promoted human rights through foreign policy, such as reducing foreign aid to countries who did not respect human rights and bringing increased attention to global human rights abuses. Post-presidency, he continued promoting these ideals through his dedication to humanitarian aid globally and here in South Georgia. Everyone in Plains knows President Carter as Jimmy, which is a reminder of the type of humble, loving man he is. It is an honor to represent Plains, GA and the Carter family as State Senator of District 12 since 2009. I give love and prayers to the Carter family and leave you with this quote from our cherished former President Carter that summarizes his career and work." "If you have any talents, try to utilize them for the benefit of others," Sen. Powell-Sims said.
Copyright 2023 WALB. All rights reserved.