Pro-life activist arrested after scaling Phoenix skyscraper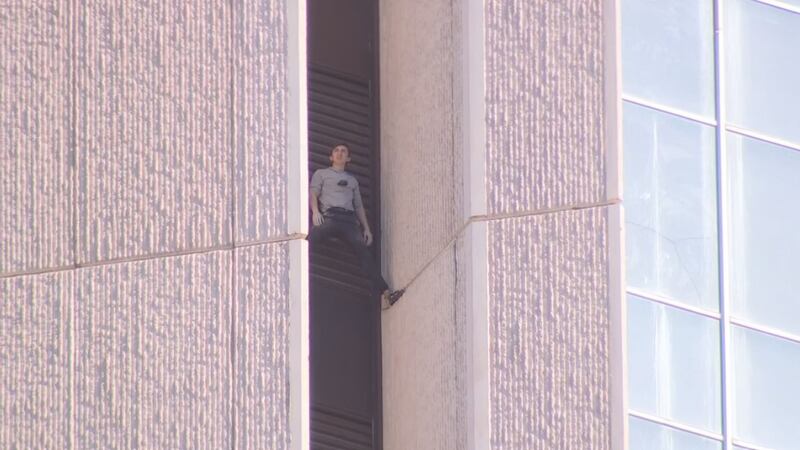 Published: Feb. 7, 2023 at 12:48 PM EST
PHOENIX (3TV/CBS 5/Gray News) - A pro-life activist who scaled Chase Tower in downtown Phoenix has been booked into jail for trespassing.
Police and firefighters, including Technical Rescue Teams, responded to Chase Tower around 9:45 a.m. Tuesday. There, they found a man scaling a three-foot-wide ventilation channel on the building's exterior, and he was already 15 floors from the ground.
Video from the scene showed a man scaling the building, and a number of first responders on the roof and the streets below.
Based on social media posts, the man climbing has been identified as Maison Des Champs, an activist also known as "Pro Life Spiderman."
According to his website, he climbs buildings to raise awareness for a charity called Let Them Live. He's previously climbed tall buildings in other cities, including Los Angeles, San Francisco, Detroit and Oklahoma City.
"He gets a lot of attention to be able to give the prolife movement a platform," said Emily Berning, co-founder of Let Them Live. "He's raising awareness for a mom whose name is Hope, and she is 22 weeks pregnant, and she has an abortion scheduled for this Friday. So he is trying to raise money to help her choose life."
Fire officials began talking to Des Champs during his climb, and he told them he was a professional climber and intended to reach the top of the building. He made it to the roof around 10:45 a.m., where he was checked by paramedics and soon arrested by police.
"This is a stupid, stupid move. This is so dangerous," Phoenix Fire Capt. Todd Keller told Arizona's Family after the incident. "You put not only yourself in danger, you put firefighters in danger. You put anyone else walking below or anybody around this incident in danger."
Des Champs has been arrested following similar situations. He was booked in the Maricopa County jail on trespassing and criminal nuisance charges.
"This is frustrating because it's 100% preventable," Keller said. "There are places all over the Valley where you can do this in a controlled environment, (and) this is an uncontrolled environment. This is Chase Tower: 40 floors up. Very, very dumb."
The 50-year-old tower has been vacant since 2021.
Copyright 2023 Arizona's Family via Gray Media Group, Inc. All rights reserved.