Mauled boy's family sues over dog attack, seeks punitive damages
Published: Feb. 1, 2023 at 11:59 AM EST
|
Updated: Feb. 1, 2023 at 12:18 PM EST
AUGUSTA, Ga. (WRDW/WAGT) - The family of a Grovetown boy mauled by three dogs has sued the pit bulls' owner and is seeking compensatory damages along with punitive damages with "no limitation."
Justin Gilstrap, 11, was attacked by the dogs on Jan. 6 as he was riding his bike on Langston Drive in Columbia County. The dogs ripped off most of Justin's scalp, and he suffered wounds all the way to the bone on his legs. He lost one of his ears, and the other had to be reattached.
"He has undergone and continues to undergo, extensive medical care and treatment," the lawsuit states. "Despite this medical care and treatment, Justin Gilstrap will be left with permanent mental and physical injuries, including scarring and permanent disfigurement."
The dogs and several others with the same owner have since been euthanized.
Justin's family is seeking punitive damages to deter the owner, Burt Thomas Baker II, from ever letting something like this happen again. Along with Baker, defendants in the suit include Brenda Johnson and several so-called John and Jane Does who Justin's family feels contributed to the problem.
"It's about accountability for the people that are responsible for what happened to Justin Gilstrap. It's about justice for Justin Gilstrap for everything that he's been through and everything that he's going to have to continue to endure," said Adam King, Nicholson Revell LLP.
EARLIER COVERAGE:
"As a result of Defendants' negligence as alleged herein, Defendants are liable to Plaintiff for all damages sustained by Justin Gilstrap, including his medical expenses, physical and mental pain and suffering past, present, and future, and his permanent scarring and disfigurement," the lawsuit states.
"Defendants have acted in bad faith, been stubbornly and litigious, and have caused Plaintiff unnecessary trouble and expenses, thereby entitling Plaintiff to recover her reasonable attorney fees and expenses of litigation," the lawsuit states.
King says they're still in the investigative phase of the case, so he isn't ruling out adding employees for Columbia County.
"I think we're looking at all options at this point. The investigation is still pretty early on. This just happened a short while ago. Whatever the investigation uncovers is the area that will travel as far as holding people accountable," he said.
The lawsuit alleges Baker and Johnson failed to take reasonable steps to prevent their vicious and dangerous dogs from attacking Justin. The conduct of Baker and Johnson constitutes a breach of their duty to manage and control their vicious and dangerous dogs, the lawsuit alleges.
"We think that the evidence will turn out there Mr. Baker, Ms. Johnson knew that these dogs were dangerous and that they had a history of violent, unpredictable, erratic behavior. And that as a result of that, they should have taken better care to make sure something like this didn't happen and really should have not had dogs like this in the first place," said King.
The lawsuit also says the "acts and omission of Defendants as shown herein constitute fraud, intentional misconduct, willful and wanton misconduct, oppression, malice, and a conscious indifference to the consequences related to the safety, health, and welfare of Justin Gilstrap."
The lawsuit goes so far as to allege the defendants "acted and or failed to act with the specific intent to cause harm to Justin Gilstrap."
As a result, "there is no limitation regarding the amount to be awarded as punitive damages," states the lawsuit.
"Punitive damages are available in cases like this. Where there's been a reckless, willful wanton, indifference to consequences, reckless indifference to consequences, and we certainly think that's the case here," he said.
The suit was filed Monday in Columbia County Superior Court, with Justin's mother, Ericka S. Gilstrap, named as the plaintiff.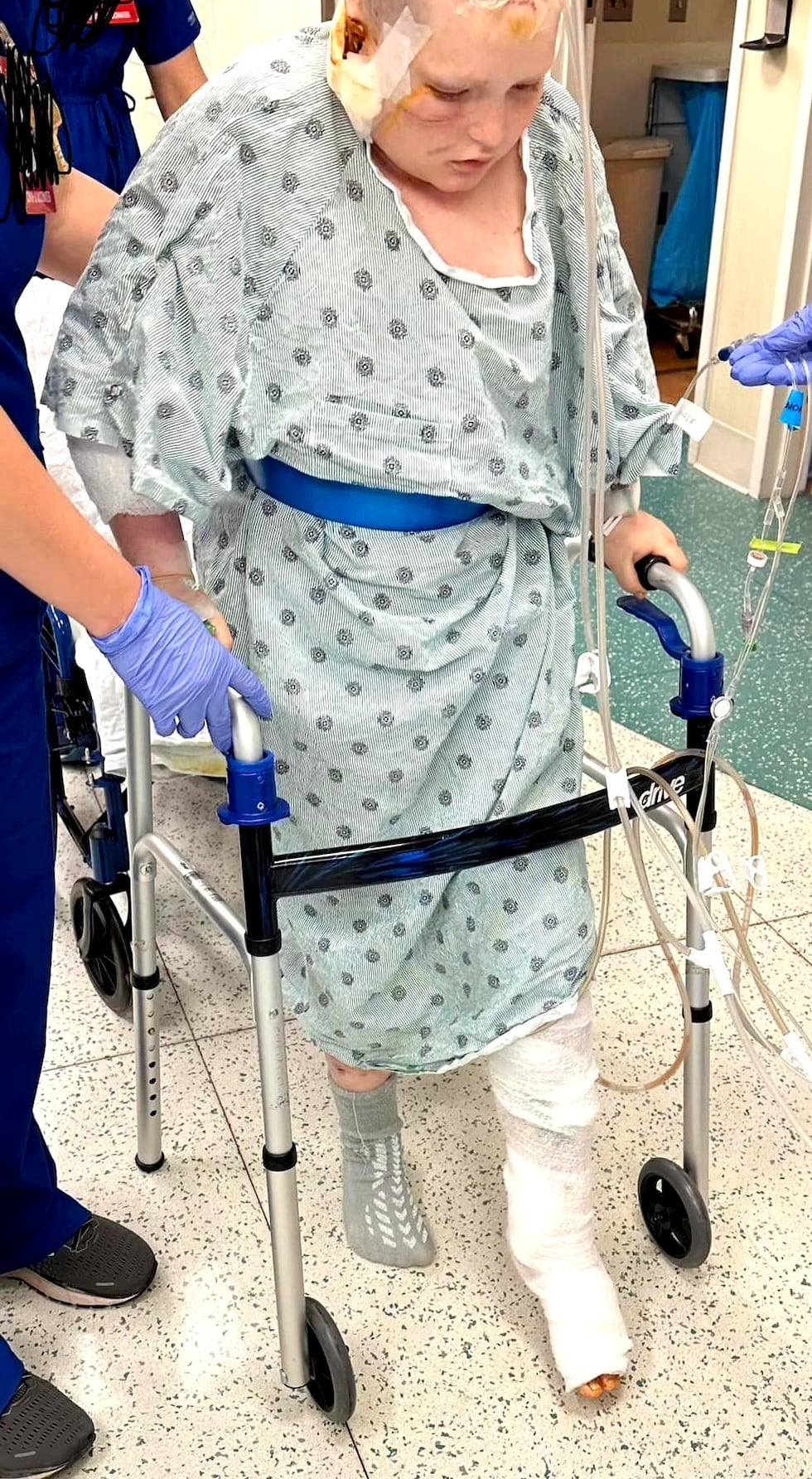 Baker and Johnson have 30 days to respond to the lawsuit. Then there's a discovery process which King says takes around six months before a trial date is set, which will then go in front of a jury of Columbia County citizens.
Although he's been confined to the hospital, Justin has shown remarkable resilience and optimism that's drawn an outpouring of support from around the world.
Justin's mom says some days are good, and some are not so good with Justin in the Children's Hospital of Georgia. Through it all, Justin says he's a fighter.
"I don't give up. I don't give up for nothing," he said a few days ago.
His road to recovery is a long one but he's taking one day and one surgery at a time.
"I'm looking to get better and walk again, being able to walk," he said.
He showed he was able to walk by taking a few steps.
"It made me happy," said Justin. "I was proud of myself to be able to walk again."
Copyright 2023 WRDW/WAGT. All rights reserved.