Propping feet on Pelosi desk was mistake, man testifies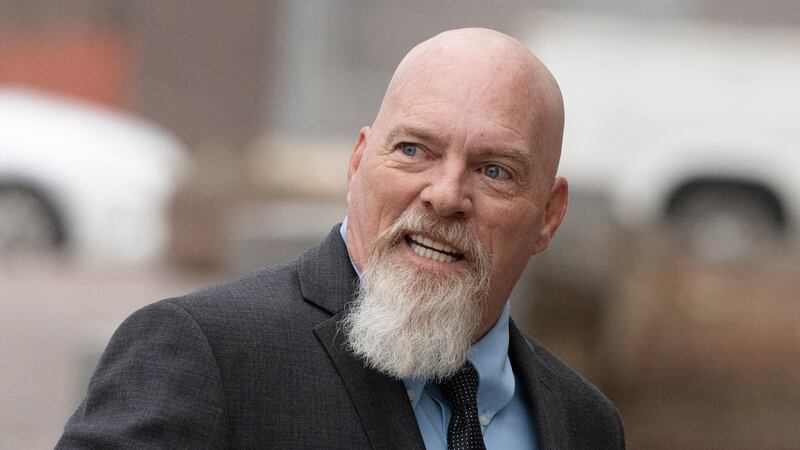 Published: Jan. 19, 2023 at 5:25 PM EST
|
Updated: Jan. 19, 2023 at 6:19 PM EST
WASHINGTON (AP) — An Arkansas man testified Thursday that he was "going with the flow" when he propped up his feet on a desk in then-House Speaker Nancy Pelosi's office, posing for photographs that made him one of the most memorable figures from the U.S. Capitol riot two years ago.
On the witness stand at his trial on riot-related charges, Richard "Bigo" Barnett said he was looking for a bathroom inside the Capitol on Jan. 6, 2021, when he unwittingly entered Pelosi's office and encountered two news photographers. He said one of the photographers told him to "act natural," so he lounged back in a chair and flung his legs onto the desk.
"Did it dawn on you that what you were doing could cause some trouble?" defense attorney Joseph McBride asked Barnett.
"I was just in the moment," Barnett replied. "I'm just kind of going with the flow at this point."
Prosecutor Michael Gordon showed an online post in which Barnett declared anyone who "does not support the Constitution" to be his enemy. Asked how well he knew the document himself, Barnett eventually acknowledged that he knew the First and Second Amendments well, but had little knowledge of others.
Barnett, a retired firefighter from Gravette, Arkansas, is one of more than 900 people charged with federal crimes for their conduct at the Capitol on Jan. 6, 2021. Nearly 500 of them have pleaded guilty. Barnett is one of several dozen Capitol riot defendants whose case has gone to trial.
Barnett's trial played out in the same courthouse as two other high-profile trials stemming from the riot. A jury began deliberating in the seditious conspiracy case against a second group of members of the far-right Oath Keepers. Meanwhile, a documentary filmmaker testified in the seditious conspiracy case against former Proud Boys chairman Enrique Tarrio and four associates.
In Barnett's case, prosecutors said the 62-year-old had a stun gun tucked into his pants when he stormed the Capitol, invaded Pelosi's office and posed for a photo that became one of the attack's best-known images. He also took a piece of her mail and left behind a note that said, "Nancy, Bigo was here," prosecutors said. Barnett punctuated the message with a sexist expletive.
Before leaving Capitol grounds, Barnett used a bullhorn to give a speech to the crowd, shouting, "We took back our house, and I took Nancy Pelosi's office!" according to prosecutors.
Barnett, testifying near the end of his trial, said he regrets coming to Washington for the "Stop the Steal" rally where then-President Donald Trump addressed a crowd of supporters.
"Two years of lost life. Misery for my family," he said.
He also expressed regret for using vulgar language in his note to Pelosi.
"I probably shouldn't have put my feet on the desk," Barnett said.
Asked by Gordon whether he regretted entering the Capitol, Barnett insisted he was swept along with the crowd.
"I do not regret getting pushed in," he said.
A grand jury indicted Barnett on eight charges, including felony counts of civil disorder and obstruction of an official proceeding. He also faces a charge of entering and remaining in restricted building or grounds with a deadly or dangerous weapon — the stun gun with spikes concealed within a collapsible walking stick.
In opening statements for the trial, a prosecutor said Tuesday that Barnett planned the trip for weeks and came prepared for violence.
"The defendant violated that space," prosecutor Alison Prout said.
McBride told jurors on Wednesday that Barnett was just a "crazy guy from Arkansas" who didn't hurt anybody on Jan. 6 and couldn't have harmed anybody with the stun gun device because it was broken that day.
"We're not asking you to approve of his actions," McBride said, calling it "the most famous trespass case of all time."
Barnett said the crowd of Trump supporters leaving the rally was in a jovial mood as they approached the Capitol. He said he became angry after he heard a loud bang and saw what appeared to be police officers firing tear gas at the crowd.
"It flipped my world upside down," Barnett said, calling it his first experience with police brutality after years of being a firefighter. "I went in full crisis mode."
Barnett said videos show that the crowd pushed him into the Capitol as the approached an entrance, causing him to briefly fall to his knees as he crossed the threshold.
"We have no choice!" he shouted repeatedly on the video as he entered the Capitol.
Barnett said he didn't realize he had wandered into Pelosi's office until one of the photographers asked him if he knew where he was and he spotted empty envelopes with Pelosi's name on them,
After police ordered him and others to leave Pelosi's office, Barnett realized he had left his American flag behind. Body camera video captured Barnett shouting at a police officer in the Rotunda for help in retrieving the flag.
Prosecutors said Barnett had a history of arming himself at political demonstrations before the Jan. 6 attack. In July 2020, they said, a 911 caller reported that a man matching Barnett's description had pointed a rifle at her during a "Back the Blue" rally.
"Law enforcement ultimately closed the investigation as unfounded due to unresolved apparent discrepancies in the evidence," prosecutors wrote.
In November 2020, police were called to a "Save the Children" rally when a caller said Barnett was carrying a gun at the protest and acting suspiciously.
Copyright 2023 The Associated Press. All rights reserved.