Celebration of Life details for former Georgia first lady Sandra Deal announced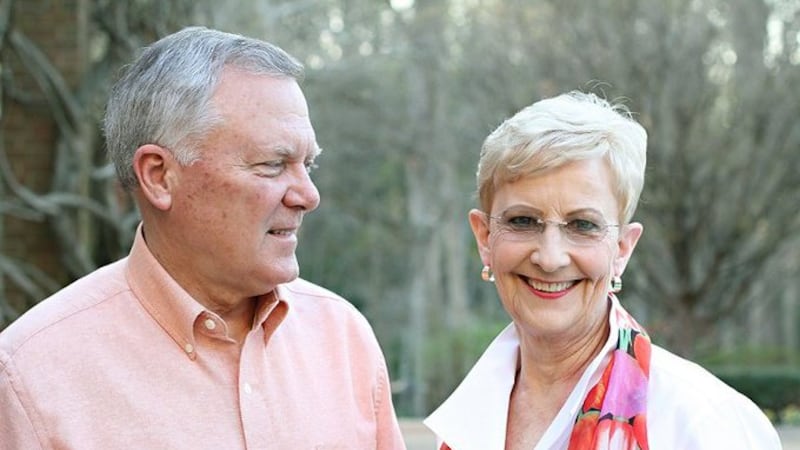 Published: Aug. 23, 2022 at 6:31 PM EDT
ATLANTA, Ga. (CBS46) - The Deal family has announced that they will host a Celebration of Life for the late first lady Sandra Deal at 2 p.m. Saturday at Lanier Tech in Gainesville. All are welcome.
Deal died from breast cancer that metastasized into brain cancer Tuesday at her home in Demorest
The family also released her official obituary. Read below.'
Obituary for Sandra Deal
Former Georgia First Lady Emilie Sandra Dunagan Deal, age 80, of Demorest, passed away Tuesday, Aug. 23.Born on Feb. 1, 1942, in Gainesville, she was the eldest daughter of the late George Jeter and Ida Lou Waldrep Dunagan.
Mrs. Deal's bright light shone throughout the state. As First Lady, Mrs. Deal promoted community service, volunteerism, and literacy initiatives alongside her husband of 56 years, former Gov. Nathan Deal. Mrs. Deal launched a statewide campaign called "With a Servant's Heart" in 2011. In 2015, she co-authored a book, Memories of the Mansion. Mrs. Deal's crowning achievement as First Lady was reading to more than 250,000 students across every Georgia county in over 1,000 classrooms.
Mrs. Deal was proud of her humble upbringing in the mill town of New Holland where she and her family attended New Holland Baptist Church. As a graduate of East Hall High School, she remained a vocal advocate of public education and community involvement. Prior to Mrs. Deal's marriage to John Nathan Deal on June 12, 1966, she graduated from Georgia Women's College (Georgia College and State University), where she later returned to earn her master's degree in Education. As the daughter of two educators, Mrs. Deal made it her lifelong mission to teach and inspire all who would listen, particularly young children.
Mrs. Deal remained dedicated to her community. She was a longtime member of First Baptist Church of Gainesville, serving as a Sunday School teacher and a Prayer Group leader. She was dedicated to helping those in need and graciously gave her time and resources to local charitable organizations, such as Randy & Friends, Good News Clinic, and local food banks. Mrs. Deal served on several boards throughout her life, most recently Piedmont University and her alma mater, Georgia College and State University.Survivors include her devoted husband, Gov. Nathan Deal, son and daughter-in-law, Jason and Denise Deal of Gainesville; daughter, Mary Emily Deal of Atlanta; daughter and son-in-law, Carrie Deal and Clint Wilder of Rome; daughter and son-in-law, Katie Deal and Sam Comeau of Demorest; grandchildren: Fallin Deal, Rosemily O'Bradovich, Noah Deal, Dawson Deal, Cordelia O'Bradovich, Ethan Wilder; sister and brother-in-law, Brenda Dunagan and Frank Sims of Clermont; brother, Michael Dunagan of Cornelia; brother and sister-in-law, William Bradley and Mary Grant Dunagan of Rome; along with many nieces, nephews, and cousins.The Rev. Bruce Morgan, who officiated the wedding of Governor and Mrs. Deal, will officiate the private service and interment. A public Celebration of Life is scheduled for 2 p.m. on Saturday, at Lanier Technical College, Ramsey Conference Center in Gainesville with the Rev. Bill Coates officiating.
In lieu of flowers, the family encourages honoring First Lady Deal by supporting The Deal Foundation. The Foundation will continue her commitment to spreading the importance of lifelong learning and community leadership through scholarships, book distribution, and literacy programs. Donations can be made to The Deal Foundation, PO Box 2, Demorest, GA 30535. www.thedealfoundation.org.The Celebration of Life service will be live-streamed, and details can be found at Memorial Park Funeral Home of Gainesville.
ORIGINAL STORY
The family of former Georgia first lady Sandra Deal has died from breast cancer that metastasized into brain cancer today at her home in Demorest, according to a press release. She was surrounded by Gov. Nathan Deal and their family at the time of her death.
"We have lost a wife, mother and grandmother who loved us unconditionally, as we did her. She blessed us, taught us and enriched our lives," the Deal family said in a statement. "Our family knew this day was coming, and we are grateful that it gave us the opportunity to enjoy as much time with her as we could in her final months. We are grieving but celebrate her life and the example she set. A woman of unshakeable Christian faith, she did not fear death because she had no doubts about her ultimate destination and knew that we'd all come together again one day. Beyond our family, she touched thousands and thousands of lives as a teacher and as First Lady of Georgia, when she read to students in every county and every school district in the state. The public Sandra Deal matched the private Sandra Deal. She gave to others selflessly, unfailingly and unceasingly. We will miss her but count ourselves lucky that we were hers. She leaves a world that's better because she was here."
The Deal family will announce Celebration of Life details soon.
Gov. Brian Kemp said he, First Lady Marty Kemp and their daughters "are truly heartbroken to learn of former First Lady Sandra Dunagan Deal's passing."
"The proud daughter of teachers and a two-time graduate of what would become Georgia College and State University, she dedicated her professional life to the same career as her parents – educating the growing minds of Georgia," Gov. Kemp said. "For generations to come, the Sandra Dunagan Deal Center for Early Language and Literacy, located on the campus of her alma mater, will continue her good work in bringing the gift of reading to Georgia's children.
"As for her marriage to former Gov. Nathan Deal, both those who had the pleasure of knowing them personally and those that they just met were able to witness a relationship filled with unyielding affection and respect.
"As she will for so many Georgians, Mrs. Deal will remain steadfast in our hearts and memories, just as her family will be in our prayers during the time of mourning."
Copyright 2022 WGCL. All rights reserved.