Ahead of state review, observer says election was messy, not fraudulent in Fulton County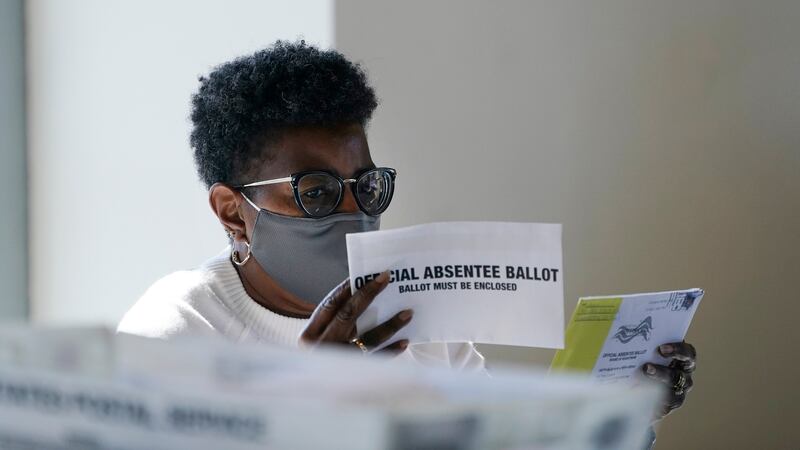 Published: Jun. 16, 2021 at 8:45 AM EDT
|
Updated: Jun. 17, 2021 at 7:48 AM EDT
ATLANTA (AP) — An independent monitor who spent months observing election workers in Georgia's most-populous county says processes were badly managed but he saw no evidence of fraud.
Notes written by Carter Jones and obtained by The Associated Press detail problems with ballot transfer and storage, as well as inefficient workflows and systemic poor management.
But in an exclusive interview with the AP on Wednesday, Jones noted that in the nearly 300 hours he spent at various locations in the county, he did not witness "any dishonesty, fraud or intentional malfeasance."
Jones' observations challenge many of the allegations of fraud and misconduct that have circulated since the election.
Reports from Jones detail tense encounters with party election monitors.
he wrote that transparency is imperative throughout the election process and monitors are necessary.
But he said political parties must do a better job of vetting and training their monitors. He also suggested that repeat offenders be prohibited from serving as monitors in the future.
Jones noted in his report that some party audit monitors "seemed to feel as though they were detectives or sheriffs and that they were going to personally 'crack the case' and uncover a stolen election."
He called that a "gross misunderstanding of their role."
His interview came as Georgia Secretary of State Brad Raffensperger said his office is reviewing the handling of paperwork related to ballot drop boxes in the county during last year's election.
County election workers were required to fill out a transfer form each time they collected absentee ballots from the drop boxes.
Raffensperger's office says it's conducting a review of the handling of that paperwork.
The investigation follows a report on a conservative website that says some drop box transfer forms were missing when Fulton County produced forms in response to an open records request.
A county spokeswoman says the county followed all the rules.
Copyright 2021 WRDW/WAGT. All rights reserved.